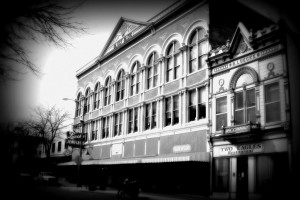 The term "family business" has special meaning for sisters Alicia Luecke-DeMichele and Marcia Luecke-Toepfer. Together they run three jewelry stores, the flagship location in Freeport having been established by their grandfather, Robert G. Luecke, in 1921. 
The family connection to Freeport's historic downtown business district dates back even further, however.  Robert began his jeweler's work in a corner of the Blust Dry Goods Store inside a building erected by his father-in-law, E.A. Blust, at 10 E. Main St., Freeport.  The Blust Building, built in 1892, remains an iconic downtown landmark.
"Once the dry goods business fizzled, Grandpa (Robert G. Luecke) took over the building and set up Luecke Jewelers in 1921," explains Alicia. "My grandma Margaret did a lot of the bookkeeping and other work.  Watch repair was a big deal at that time, and they had two repair people onsite."
The jewelry business was still going strong when Robert welcomed his son, Charles M., to the shop in 1955. In coming decades, Charles M. would oversee the expansion of Luecke Jewelers to five times its original size, adding stores in Monroe, WI and Belvidere, IL.  Today, at age 85, he still works in the stores a few days a week.
"He does all the estate and antique jewelry sorting and pricing," says Alicia.  "He loves it."
Charles' two daughters and three sons learned about jewelry and watch repair by observing their dad and grandfather at work.
"Dad would bring all five of us to the shop on Sunday afternoons, to give my mom some peace and quiet, and we'd work around the store and observe Dad and Grandpa at their workbenches," recalls Alicia.
There was plenty of incentive for the children to cooperate during these Sunday outings.  "If we behaved well, we got to go to the Union Dairy afterward for ice cream."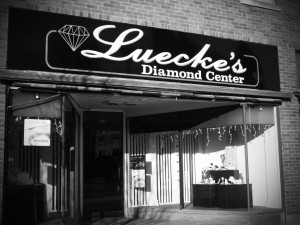 Downtown Freeport remains as important to the Luecke family now as it was in 1921.  "Our family has owned the building for more than 100 years, which is pretty rare," says Alicia. "We take great pride in being in downtown Freeport for that reason."
On the second floor of the Blust Building, above the jewelry store, the family operates Luecke's Antique Mall, which brims with fine vintage home furnishings and much more. 
Of Charles M.'s five children, daughters Marcia and Alicia, and son Charles G., showed the most interest in the family business. When Charles M. decided to set up a second location – in Monroe, WI, in 1981- he brought in Marcia and Charles G. to run it.  "By then we'd been pulling a lot of customers from Monroe to Freeport, so it made sense to open a Monroe location," Alicia explains.  That store in on the historic Monroe Square, at 1029 16th Ave.
Seven years later, Charles M. groomed daughter Marcia to take over management of the Freeport location; Alicia took over the Monroe store.  Charles G. does appraisal work in all three stores. 
The family never thought of expanding its operation to Belvidere, until it was approached by citizens from that city who said they'd been without a locally owned jewelry store for too long.
"We did the research, then opened in 2012 in Winter Plaza, a strip mall on State Street in Belvidere," explains Alicia. "Marcia oversees that store as well as the Freeport store."  Today the Belvidere store is at 1444 N. State St. 
The family members work together as well. 
"We've been lucky, over time," says Alicia.  "We all get along well.  Everybody meshes and helps each other out. I know that's not the case in every family business, but, for us, it works.  Strong communication is important.  We trust each other."
And trust is really the cornerstone of a successful jewelry business, says Alicia.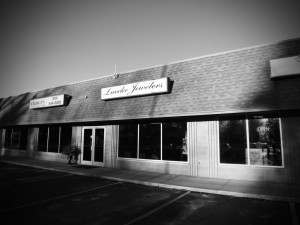 "A locally owned jewelry store – one that has some longevity and a strong reputation in its community – offers something that big-box type jewelers just can't," she says.  "We offer a level of comfort.  People feel comfortable with us handling their items.  They feel good about the long-lasting relationship developed with us over the years, as they bring in pieces for cleanings and repair.  They like knowing that we'll be here for the long haul.  They know we won't steer them in the wrong direction for a purchase, and that we'll be fair in our pricing."
As much as customers appreciate the expertise – Luecke Jewelers are members of the American Gem Society – they also like the family's laid -back style. 
"We're not pushy and we don't rush customers to make a decision," says Alicia.  "We just answer questions and help them walk through the selection process."
In-store services offered at the three locations include free jewelry cleaning and diamond inspection; expert jewelry repair; watch repair and battery installation; pearl and bead restringing; life-time trade-up on diamond jewelry; and the purchase of pre-owned jewelry, gold and silver.
Engagement and wedding rings are a big part of business at all three locations, of course.  Luecke Jewelers buys only from suppliers who guarantee their diamonds are conflict-free.
"Traditional white gold settings are popular with younger generations, now, as they were in the 1980's and '90's," says Alicia. "Trends swing back and forth.  When gold prices jumped, alternative metals grew in popularity, like titanium and tungsten.  Gold prices have since come down a lot, but they're still high, at around $1,200 per ounce."
The Luecke sisters make an effort to carry quality items in a variety of price points.  They display an array of precious gems – sapphires, rubies and emeralds – as well as semi-precious jewels like garnets and amethysts.  There are modern lines of jewelry made with stainless steel, Black Hills gold and ever-classic pearls, and "all of the stores offer discounts on the birthstones for that month," notes Alicia. 
Also trending now are Diamonds in Motion – diamonds specially set in 14 karat and sterling silver in a way that causes them to constantly move and catch the light, according to the rhythm of the wearer's heartbeat. 
Sideways crosses and infinity symbols are trending, and diamond stud earrings remain a timeless classic.
Another popular item is the Citizen eco-drive watch that never requires a battery.  "The watch gathers energy from light and stores it," Alicia explains.  "People who have them love them."
All Luecke Jewelers stores have wish books in which customers may note the items they like best. 
"Men love them," says Alicia.  "It makes it so easy for them to get something she really wants.  He's in and out of here quickly, and everyone's happy."
Friends of the jewelers sometimes ask whether a fourth generation is interested in the family business.
"We're happy to report that my daughter, who lives in Madison, and two nephews, who live in Freeport, have shown a lot of interest in the business," says Alicia. 
 About 15 people work in the three stores, and even those who are not related by blood seem like extended family members. 
"I think it's one reason we have very low staff turnover," she says.  "Our employees feel like they're a part of the family."